Absolutely you can.  Basically, the first person to request a district to be setup becomes the district admin for the district.  This can be changed at any time.  From the "User Management" page, a district admin can bump up other users in the district to the School Admin or District Admin levels.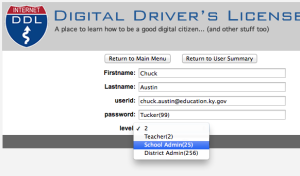 This is not an uncommon question.  Students can actually set up their account with a "username" instead of an email address (ex. jsmith).  However, personal email addresses are fine too.  There are several benefits to using email addresses.
by using an email address, students get auto generated emails upon account creation, which contain their password if they forget (although we strongly encourage students to change their password to something they will remember).
If students ever forget their password, if they have used an email address as their username, they can use the "forgot password" link and get an email kicked to them containing their password.
also, when successfully completing cases and assessments, they will receive some "Congrats" emails for reassurance.
There are many YouTube videos embedded in the DDL.  If you school and/or district blocks YouTube for all or groups of users (i.e. student users), the videos will not show or play.  One solution a teacher shared was to play the videos through the classroom projector, to the whole group, from her teacher account (which can play YouTube videos), then work through the DDL on student computers individually.  One other solution would be to go through and identify the exact YouTube links to the specific videos you want to make sure get played... then submit those specific videos with a request to get them allowed through the school/ district proxy filter.
That is for future automation and network tie ins. Some schools and districts are wanting to automate the move of student accounts into new groups with more access, upon successful completion of the DDL. This account field is NOT required (optional), and is actually a pilot/testing placeholder for future work.
You got it - for the most part. We have found that if you direct students to create their own account, then you can ensure that they know how to get to the site and how to navigate the DDL. When a student account is created you should instruct students to use their school email address and make sure to connect with the district and school (from the district/school drop downs). Their temporary password is displayed on the screen and emailed to them. We also like to see students change their password from the main screen after logging in to something they can remember, but one that no one else knows (general password guidance). Once a student connects with the school and district, when creating their account, admins can see all of that work and run reports to gauge completion, etc.
That can be monitored by running reports on the Practice-It! assessments. If you desire users to pass the practice assessments, you\'ll just want to make suer they are doing that (reports will tell you that). Just like assigning a book to read, there is no way to guarantee that every word in the book was read. Engage in the conversation and you will have a clue. A core concept turbo charging the DDL, is that if someone truly GETS a concept than they should have an opportunity to Prove-It! as soon as they think they can. Which is why we allow as many attempts as needed. If you run a report and see an abnormal number of attempts from a user (we call that: GAMING attempts) - then you should do something about that (talk with the user, etc.). The tools are there, for you to see any activity you need. The same applies for the Open Response questions in any of the assessments. Open Response questions are NOT automatically graded, and if the responses from users are not reviewed, the message sent/received is that it doesn\'t matter. So, you\'ll want to review the Open Response answers.
Questions are created and vetted by small groups of teachers and leaders. On a large scale, the questions are vetted by anyone who takes an assessment. If a question(s) is missed by a majority of people, it is flagged to be reviewed as a potential \"bad question.\" Most importantly, if you see a question and you disagree with then answer, please submit it in an email to mailto:
admin@idrivedigital.com
Short answer is Zero $$$. It costs nothing to use. The goal has always been for the DDL to be a free resource for classrooms, schools, and districts to use. Because it is free, it is really important for people to participate in helping it grow and continue to make it better. We do have a Sponsorship movement where business and organizations can help support the DL2 Lab at the University of KY with this project. Sponsorship covers content creation work and future expansions of the project.
Classroom teachers, as well as, school and district leaders are implementing the DDL for many reasons. #1 to have a structure way to present information and teach a specific digital citizenship skill set (+ Internet Safety and online behavior). Beyond the \"it\'s just the right thing\" reason, We see 3 main approaches using the DDL as an incentive program: 1) have students get their DDL before the school/district hands them a device - in a 1:1 ratio initiative 2) have students get their DDL before the school or district permits a BYOD (Bring Your Own Device) initiative... and/or... 3) promote greater buckets of access to less filtered content (i.e. social networking & social media sites) - as soon as students get their DDL, bump them up to more access - b/c they\'ve proven they get it through a performance event.
No. There is no pool of questions. Randomization of questions is something we are still working on and looking to implement in the near future.
Simple answer = anyone. Just send an email to admin@idrivedigital.com to get your school district added to the dropdown menu to select your district. From there you will request at least 1 \"detract admin.\" That\'s it. Then you implement how you see fit.
If all resources are viewed and all assessments are taken it could take up to 45 minutes to an hour per case. However, the core design of the DDL is if you can Prove-IT! then you understand it. We see students going through all of the resources and materials if they are having trouble Proving-It!... Practice-It until you can Prove-It!